Walking While Texting Injuries Are on the Rise in Texas
Houston Legal News
Over the past twenty years, emergency room visits caused by smartphone-related injuries have risen dramatically, according to multiple studies. The overwhelming majority of victims were individuals in their teens and 20s. Distracted driving, walking, and texting accidents were the primary causes of these accidents and their resulting injuries. Those injured in a crash should contact a Houston car accident attorney in order to recover lost compensation for their injuries. 
Injury Statistics for Distracted Smartphone Use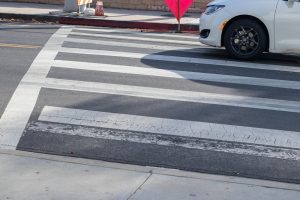 Statistics from the National Safety Council shows that around 2,841 people are killed in distraction-related accidents in a single year. The Governors Highway Safety Association also reported that nearly 6,000 pedestrian fatalities take place annually, the highest figure recorded in the past twenty years. 
When Do Smartphone-Injuries Happen?
It is no surprise that most Americans are extremely dependent on their phones. In fact, 96% of the population owns a cell phone. People are using their cell phones everywhere, so an injury accident could happen at any time if the user is not paying attention to what they are doing — like driving their car. For this reason, car accidents in Houston caused by distracted driving are on the rise. 
Some typical situations include:
Distracted driving.

A driver who is talking, texting, surfing social media, or generally using their smartphone can easily lead to a serious accident. A distracted driver could strike another car, cyclist, or pedestrian, and the resulting injuries could be catastrophic and possibly fatal. 

Distracted walking.

Pedestrians who are focused on their phones are not paying attention to their surroundings, let alone where they are going. Distracted pedestrians may fail to notice traffic signals at intersections or could fail to see oncoming cars at unprotected crosswalks. They could also trip and fall while walking, resulting in severe injuries to the head and face, hands and wrists, knees and hips, and other areas of the body. 
Smartphone Laws in Texas
Texas has banned the use of wireless communication devices for texting or electronic messaging while on the road, meaning that:
Drivers cannot send or receive electronic messages while operating a motor vehicle.

Those who have a learner's permit cannot use handheld cellphones during their first six months of driving.

Drivers younger than 18 cannot use wireless communications devices while operating a motor vehicle.

It is illegal for any driver to text or use a handheld device in a school zone.
Nearly 45 cities, including Austin, San Antonio, Denton, and others have even more strict laws on the books regarding mobile device usage. 
Pedestrian Accidents in Houston
Few things are as devastating as being injured in a pedestrian accident. Across the state of Texas, there were 7,908 reported pedestrian collisions in 2018. An estimated 8% of these crashes resulted in fatal injuries, with 643 deadly pedestrian accidents reported that year. Of these accidents, 207 involved commercial vehicles. 
In most cases, Texas car crash victims are injured by reckless or negligent drivers, and the responsible party can be made to cover the damages resulting from the collision. For over a decade, Connolly Law has helped car crash victims obtain the compensation they deserve. Our qualified Houston pedestrian accident attorneys will work tirelessly to ensure that your rights are protected under the law. Contact our offices today at 877-CONNLAW to discuss your case today.