Damages in a Clear Lake Trucking Accident Case
Houston Legal News
When a semi-truck or commercial vehicle hits a passenger car, it will almost assuredly end in some serious damage. The passenger vehicle will sustain significant damage, but the driver and passengers riding in the car have a high likelihood of suffering catastrophic injuries. The injuries resulting from a Texas trucking accident often require months of recovery and leave victims unable to return to work. When injured parties pursue a lawsuit against the negligent truck driver, trucking company, and other parties responsible for their accident, he or she may be able to recover lost compensation related to the crash. 
Compensable Damages in an 18-Wheeler Crash
After being injured in a Houston 18-wheeler crash, you may be eligible to recover economic and non-economic damages with the help of a Texas personal injury lawyer. 
Economic damages may include the following: 
Medical bills

Loss of earning capacity

Lost wages

Property damage
Non-economic damages may include the following:
Pain and suffering

Emotional distress

Mental anguish

Loss of enjoyment of life
Determining the Value of Your Damages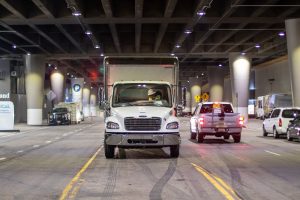 Determining the value of your economic damages is pretty straightforward due to the fact that these damages are calculated by the expenses according to invoices or bills related to the semi-truck accident. 
When it comes to non-economic damages, they are less tangible, making them harder to reach a concise figure. A common method of determining pain and suffering compensation involves a multiplier, usually ranging from 1.5 to 5. This multiplier is applied to the actual damages of the victim in order to reach a specific amount. 
In minor accidents, the multiplier will be smaller, with more serious collisions having a higher multiplier. In a trucking accident, the multiplier may be as high as 6 or 7. The severity of the related injuries, documented evidence of pain and suffering, the time needed to recover, and the fault of the other party will all play a role in determining how compensation is calculated. 
In order to reach a satisfactory figure and get a better idea of the compensation you are entitled to following a trucking accident, you should consult with a personal injury attorney in Clear Lake. Connolly Law has years of experience helping the residents of Houston recover after being unfairly injured in a semi-truck accident, and we will work tirelessly to ensure that your case is treated with the respect it deserves.  
Trucking Accidents in Clear Lake
In most cases, commercial truck accident victims in Texas are injured by reckless or negligent drivers, and the responsible party can be made to cover the damages resulting from the collision. For over a decade, Connolly Law has helped 18-wheeler accident victims obtain the compensation they deserve. Our qualified Houston trucking injury attorneys will work tirelessly to ensure that your rights are protected under the law. Contact our offices today at 877-CONNLAW to discuss your case today.