Slips, Trips, and Falls in Houston Oilfield Accidents
Houston Legal News
Injuries resulting from slips, trips, and falls in the oilfield industry are extremely common because oilfield workers are often required to work long hours in difficult outdoor environments. This greatly increases the chances of a serious slip or a trip. Slips, trips, and falls are the third-leading contributor to injuries in the upstream oil and gas field. Slips and falls are also the leading cause of lost workdays in all industries. The overwhelming majority of OSHA citations are issued due to violations of "fall protection" standards. 
Factors Impacting Oilfield Slips, Trips, and Falls
The most notable cause of slips, trips, and falls in the oilfield industry are related to the states of mind of workers, including rush and fatigue. These contribute to dangerous industrial workplace mistakes. Some other typical factors involved in these kinds of oilfield accident injuries include:
Spills and obstructions on the ground

Uncovered openings or openings that are not clearly marked and blocked off

Failing to provide and/or use proper personal protective equipment and fall protection systems

Harness malfunction

Improper rigging methods

Failure to use anti-slip measures, like slip-resistant boots or non-slip mats

Failing to regularly inspect guardrails, steps, ladders, and other similar equipment

Negligent maintenance or repair of machinery

Electrical cords and cables stretched across a walkway

Weather issues, like snow, hail, sleet, or rain, which make floors slippery 
Falls Can Result in Catastrophic Injuries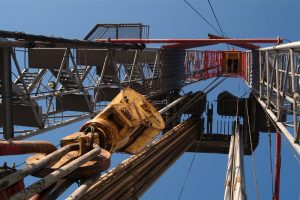 In many cases, people will underestimate the danger of being involved in a simple fall. Injuries that are commonly associated with slips, trips, and falls include head injuries, back injuries, and pulled or strained muscles. Slip, trip, and fall accidents can result in many kinds of injuries, including: 
Broken or fractured bones

Sprained ankles or wrists

Knee injuries

Shoulder dislocation

Muscle sprain or strain

Spinal cord injuries

Traumatic brain injury
Due to the line of work, some accidents in the oilfield industry are unpreventable. The sad truth is that many victims injured in a gas and oil field accident must deal with an array of repercussions. In most cases, oilfield accident victims suffer from physical pain and suffering as well as mental and emotional consequences. Combined with the financial devastation that often comes with a serious injury, the entire situation can be overwhelming. Most Houston oilfield accident victims suffer from injuries resulting in intense pain and emotional anguish. 
Oilfield Accidents in Houston
Texas has the highest rate of fatal oil and gas accidents in the country, with more oilfield deaths than any other state. Connolly Law is here to provide you with help when you need it most. Kevin J. Connolly at Connolly Law believes in giving back to the community, and our legal team is here to victims of Houston oil field accidents after being injured due to the negligence of a Texas big oil company. Our team of Houston oil rig accident attorneys is here to fight for your legal rights. Give the personal injury lawyers at Connolly Law a call today at (832) 767-3568 to see how we can help.