Common Causes of Texas Motorcycle Crashes
Houston Legal News
There are many common factors that contribute to motorcycle accidents in Texas. In order to ride a motorcycle, you need much more skill and coordination than driving a vehicle. Motorcycles are not as crashworthy as other types of vehicles. Rider inexperience is a leading contributor to serious motorcycle accidents, but nearly 63% of motorcycle accidents involve another vehicle. The National Highway Traffic Safety Administration found that nearly one-third of multi-vehicle motorcycle accidents are caused by drivers turning into the path of the motorcycle, typically at intersections. 
Other common causes of Texas motorcycle accidents include:
Drivers making left-hand turns

Unsafe lane changes

Drivers who fail to see motorcyclists

Intoxicated drivers

Distracted drivers

Speeding

Tailgating

Aggressive driving

Dooring (when a car door opens into a motorcyclist's path)

Inclement road conditions

Adverse weather conditions

Brake failure

Defective motorcycles or components
Motorcyclists have to practice defensive driving to remain safe. It is important for motorcyclists to make themselves visible at all times. Riders must also be careful when riding in dangerous weather conditions. Many crashes take place due to the negligence of another driver, and other parties may be liable for accidents when roads are not properly maintained or the components of the motorcycle fail. 
Alcohol Contributes to Deadly Motorcycle Crashes
Nearly 43% of deadly motorcycle crashes involve alcohol, and 26% of fatally injured riders in 2018 had a blood alcohol concentration at or above 0.08%. 
Driving under the influence of drugs or alcohol is a significant contributor to a variety of motor vehicle accidents. According to the NHTSA, an estimated 10,000 people are killed annually in drunk driving accidents. Whether motorcyclists or other drivers on the road choose to drink before operating a car, the results are likely to be devastating. 
Prevent Serious Houston Motorcycle Accidents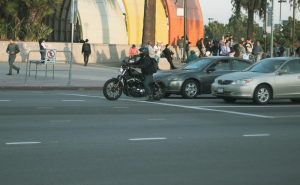 Many motorcyclists are less likely to survive in the event of a crash, no matter what the cause. Motorcyclists are not provided the protection of an enclosed vehicle and nearly 27 times more likely to be killed in a collision. Data from the NHTSA reveals that over 80% of all reported motorcycle accidents result in injury or death to a rider. 
While a helmet can help prevent traumatic brain injuries and fatalities, drivers should take caution when driving near motorcycles. If drivers check their blind spots, are careful at intersections, and keep an eye out for riders, they can potentially save lives. 
Failure to consider these factors can be considered as negligence in a personal injury lawsuit. If you have been injured in a Houston motorcycle accident, contact Connolly Law today to discuss your case. 
Motorcycle Accidents in Houston
In most cases, Texas motorcycle accident victims are injured by reckless or negligent drivers, and the responsible party can be made to cover the damages resulting from the collision. For over a decade, Connolly Law has helped car crash victims obtain the compensation they deserve. Our qualified Houston motorcycle crash attorneys will work tirelessly to ensure that your rights are protected under the law. Contact our offices today at 877-CONNLAW to discuss your case today.