Pedestrian Crashes on the Rise in Texas
Houston Legal News
Pedestrians are some of the most vulnerable roadway users in Texas. While other types of roadway fatalities are on the decline across the country, pedestrian fatalities have risen dramatically in recent years. Statistics show that pedestrians are much more likely to sustain fatal injuries in the event of a crash. 
If you have been unfairly injured in a Texas pedestrian accident, contact a Houston personal injury attorney at Connolly Law today to discuss your case and see if you are entitled to compensation for your injuries. 
Growing Rate of Pedestrian Accidents in Texas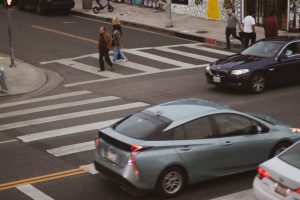 Since 2010, pedestrian accident fatalities have more than doubled in Texas. That year, there were 7,908 pedestrian accidents reported across the state. Of those accidents, 643 resulted in fatal injuries. This means that nearly 8% of all pedestrian accidents in the state that year ended in fatal injuries. These are substantial and alarming figures, but there is room for improvement. In 2016, the state experienced a peak in pedestrian fatalities, with 711 reported deaths. Neither 2017 nor 2018 have been as bad, with 629 and 643 reported pedestrian fatalities respectively. This is a sign that there may be a steady increase in the coming years. 
However, these statistics still bring many questions. Why has there been such a dramatic increase in pedestrian fatalities? There is no exact answer behind the rising number of pedestrian deaths, but there are some signs that may show what sparked the change. One is that the average weight and size of vehicles have increased notably since 1010, meaning that there is more force behind a collision than in previous years. Population increase may also be a contributor to these statistics, as higher population density means higher accident rates overall. 
Distracted Drivers in Texas
Also, the number of distracted drivers has grown markedly since 2010 because of the growing popularity of smartphones and other mobile devices. Pedestrians are just as likely to be careless regarding their surroundings as drivers. A distracted pedestrian on their phone is much more likely to walk into a crosswalk at a green light than a pedestrian who is paying attention to their surroundings. There were 2,047 pedestrian accidents in 2018 caused by pedestrians failing to yield the right of way to vehicles, meaning that 25% of pedestrian crashes are the result of negligence on part of the pedestrian. 
Pedestrian Accidents in Texas
Few things are as devastating as being injured in a pedestrian accident. Across the state of Texas, there were 7,908 reported pedestrian collisions in 2018. An estimated 8% of these crashes resulted in fatal injuries, with 643 deadly pedestrian accidents reported that year. Of these accidents, 207 involved commercial vehicles. 
In most cases, Texas car crash victims are injured by reckless or negligent drivers, and the responsible party can be made to cover the damages resulting from the collision. For over a decade, Connolly Law has helped car crash victims obtain the compensation they deserve. Our qualified Houston pedestrian accident attorneys will work tirelessly to ensure that your rights are protected under the law. Contact our offices today at 877-CONNLAW to discuss your case today.