Was The Texting Ban In Texas Effective?
Houston Legal News
There exists a myriad of reasons that a crash takes place on the roads. Distracted driving is a leading cause and an area of concern for many lawmakers. Primary to distracted driving is the issue of texting while driving. A primary ban was enacted in the state of Texas in 2017 against this behavior while behind the wheel, but the problem remains, this is only one type of distracting behavior. There are so many other distractions a driver can experience which also leads to crashes.
According to the Texas Department of Transportation, 451 people lost their lives in crashes where distracted driving was the cause in 2017. In 2018, that number declined to 398 lives lost. According to local reports, the Department of Public Safety (DPS) distributed more than 1,000 tickets and over 4,000 warnings since the ban was passed.
All About House Bill 62 In Texas
Any driver in the state is forbidden from sending or receiving electronic messages when they are driving. Young drivers under the age of 18 are not permitted to use wireless communications devices. The newest drivers who have obtained a learner's permit, are not allowed to use a handheld cell phone for six months after obtaining their permit.
No drivers may use a handheld device when they are in a school zone. The same strict expectations are put on school bus operators who are not permitted to use their phones at all when children are around. Depending on where you are located in the state of Texas, additional implications and guidelines for using a handheld cell phone while driving exist. Those who are found to violate these ordinances can be looking at a $25 fine up to $200 depending on the circumstances of the violations. If death or bodily injury is proven in court a Class A misdemeanor will follow which comes with up to a $4,000 fine and jail time up to one year.
What Damages Can You Obtain From An Accident With A Distracted Driver In Texas?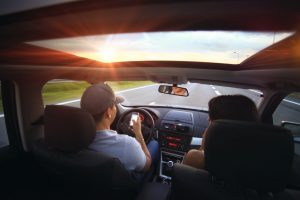 These accidents are complicated because they require you to prove the other driver was engaging in an activity that distracted them on the road. Reckless drivers that cause others harm shouldn't be left off of the hook simply because a case is hard to build. The Texas personal injury attorneys at the Connolly Law are aggressive in their pursuit of compensation on your behave. We don't believe the burden of paying for the expenses associated with the aftermath of a Houston, Texas car accident should be on the victim's shoulders.
Connoly Law are the talented Texas traffic accident attorneys you want on your side after an injury accident. We will work with you and guide you through the entire personal injury claim process. We will answer your questions and look out for your best interests. After you have been injured in an accident that was not your fault, call us today at (832) 767-3568 to schedule a free consultation with one of our compassionate attorneys.